"I can't understand the Bible! It's too complicated!"
Either you've heard someone say this, or you were the person saying it! The Bible is a love letter written by a Father to His children. The Father doesn't write to confuse His children but rather to instruct them in the best way of life. But for those who have not read the Bible on their own, it can certainly be intimidating. I guarantee this SIMPLE Way method will "de-intimidate" you!
When I read the Bible for myself, I believe God is even in control of what I chose to read in His word that day. I ask myself, "Why did God have me read this today? At this point in my life, what do I need to learn from Him?" He wants you to understand what you're reading more than you do! Listen to Him.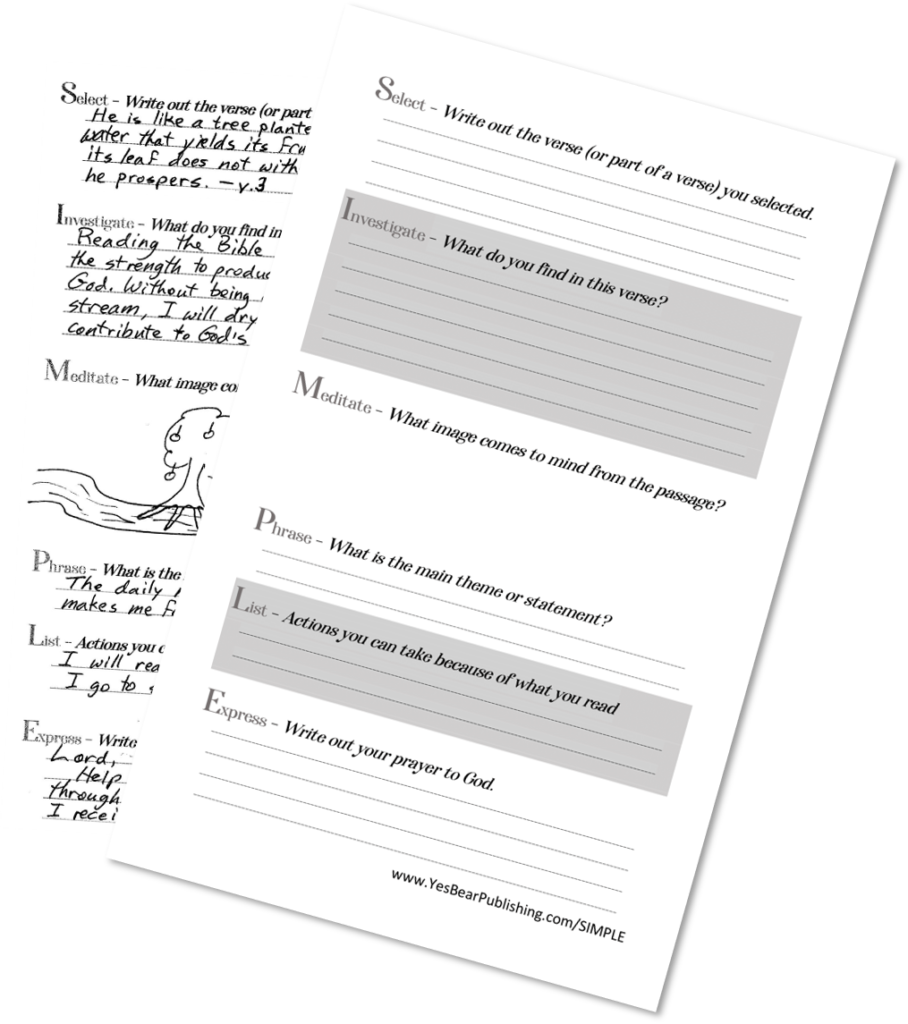 Using the SIMPLE Bible Study method, you'll interact profoundly with each section of the book you read. The SIMPLE steps will help in that interaction. We'll use the word "simple"as a guide for the six-step process:
Select
Select and write out the verse or parts of a verse that "wow-ed" you! Don't skip this part, and don't just write the reference! Writing out each word will cement God's idea to your mind. And while you are writing, He can give you more insight. Slow down. Write out the Scripture.
Investigate
What is going on in this text? What does the writer want the original readers to know? Then ask yourself, what is God is saying to you in this Scripture? Write it down in your own words. Ask the Holy Spirit to teach you the truth of His Word.
Meditate
Next, put your pen down for a moment and visualize this truth in your mind. Determine what kind of images will drive home this principle. Draw what is in your mind. You don't have to be an artist; this is only for you!
Phrase
What is the main theme you are understanding today? Write out a phrase or statement which expresses this theme. (Think of a sound bite, or a Facebook quote). This phrase could serve as a caption to the meditation drawing you just completed.
List
List up to three ways to apply the idea to your own life. Personalize what you have read by asking yourself how it applies to your life right now. It may be instruction, encouragement, or a needed correction for you personally.
Express
This step is the most powerful part of the process. Express a written prayer. Share your heart with God. It can be as simple as asking Him to help you live out this Scripture. It might be praising Him for the truth you've learned. It might be a cry for help! Whatever your prayer is this day, write it out.
---
All of our SIMPLE Way Books are designed for your use to accompany each day's short reading from the Bible. You'll find an example below and you can download you're own blank copy HERE.  If you see this page doesn't afford you enough room to write what you'd like, you have several options. You may want to buy a small notebook to use or purchase My SIMPLE Journal which I've designed for just this purpose.