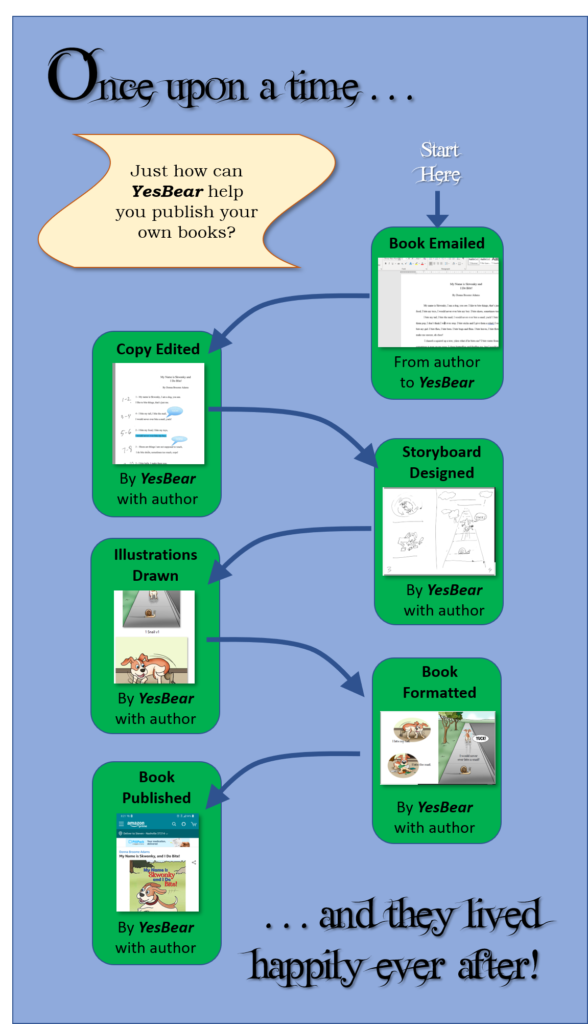 Creating Your Book
Content Editing – getting your ideas just right and communicated clearly for your target reader.
Brainstorming/Designing Interior Illustrations – nailing down the idea, then coordinate the outsourcing of any illustrations.
Proofreading – checking grammar, spelling, & punctuation.
Print or Kindle Layout Design – determining fonts, margins, table of contents, header/footer content, pagination, illustrations, and book size.
Book Cover (front/back) – deciding on the cover, and then handling communication with the designer.
Uploading to Kindle/Amazon – uploading your book for Kindle and Amazon.
Children's Picture Book Layout (Kindle or Print) – handling the special Kindle or print requirements for formatting a children's picture book.
Book Accessories
Facebook Page – a specific page dedicated to your book (or book series) to promote your own fandom!
Author/Book Website – your own author site, or your book's own site for promotion, book sales, and a place for speaking gig connections.
Wanna Connect with Us?
---
and . . . We Can Publish Your Book!
We've done it for ourselves. We can do it for you!
We are a couple of authors, who wanted to write and publish our own books. So…we did!
Over and over we've published new books. And we've learned a lot in the process.
Now we want to help you publish your book too!
How? Just CLICK HERE to find out!